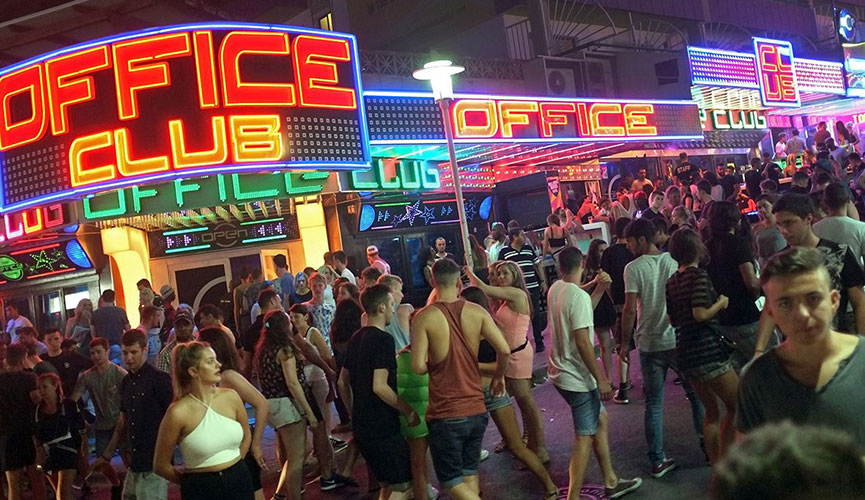 The Magaluf Strip
What's Happening on the Magaluf Strip Summer 2017
First of all you'll maybe ask yourself the question "where is Magaluf", check out the map and decide that you need a holiday in Mallorca to experience this legend called the Magaluf Strip.
We don't blame you!
The main Maga Strip is a legendary road packed with loads of bars and clubs that have seen many a wild antic over the years.
Reserve your ticket on the Magaluf Booze Cruise today for only £10!!
Book Now
The Magaluf strip location is a road called Punta Ballena but few have ever heard of the road called anything except "the strip".
Tens of thousands of holidaymakers visit the strip every summer and 2017 is set to be the biggest yet.
Already this year there are record numbers of partygoers arriving for some action.
The popularity of the strip has increased year on year due to the availability of cheap holidays in Magaluf.
As a result it's the perfect place for a crazy trip away on a budget.
Every night the biggest events such as Magaluf Zoo Project, We Are Holi and We Are Commando take place in this road of carnage Magaluf!
Some of the best Majorca Clubs have well earned reputations such as BCM Planet Dance, Car Wash, Bananas, Tokio Joe's and many others. You'll definitely find the club for your to enjoy your holiday in!
There are quite a few Magaluf hotels near the strip so you never have far to walk as you try to make your way home after a heavy night out.
There are also some great beaches surrounding the famous road and resort.
Because of the reputation of the strip in Magaluf it's a really popular place for stag and hen parties to check out. You'll see why when you get there!
What About Magaluf Strip Bars?
Of course apart from the clubs there are around a hundred bars on Magaluf Strip. Places such as Alex's, Magalluf Rocks, Mambo's and Chaplin's all have their own brand of entertainment.
The party season is just getting started on the Magaluf strip so check our parties page and calendar to see what events you could be partying at during your stay here on the island.
If you're looking for a cheap place to party and go wild then it doesn't come much better than the strip in Magaluf.
Get set for some mayhem!
More Maga Strip stories coming soon
Finally, keep an eye on our Magaluf News pages for images, videos and news from the strip.
Also look out for our guest worker articles fresh from the famous street!