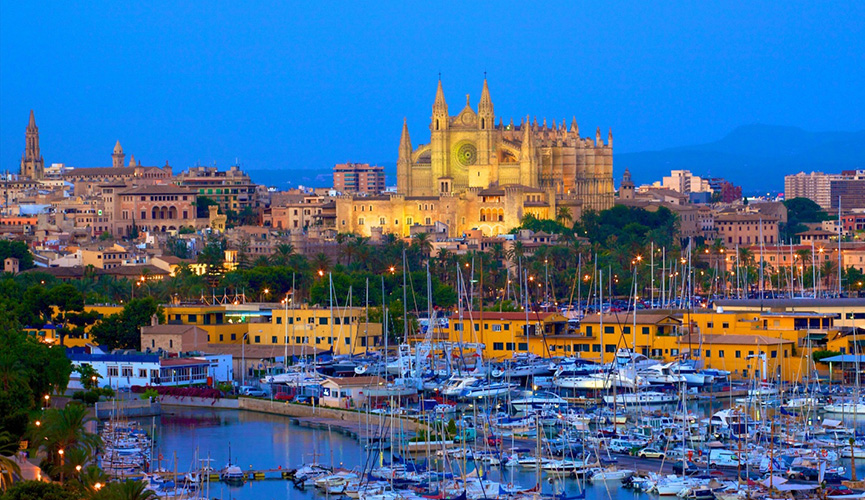 Palma De Mallorca
A beautiful and historic city with something for everyone.
Book a boat trip for your holiday in Palma. Perfect For couples, families or the intrepid lone explorer!
Palma De Mallorca is the capital city of the island of Majorca visited by thousands every year.
It's a city that oozes Spanish charm from it's wonderful architecture to it's vibrant nightlife and cafe culture.
Palma De Mallorca Weather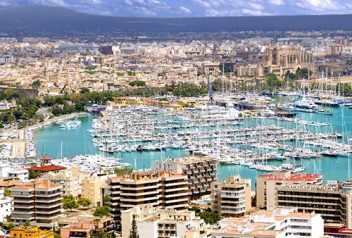 The weather in Palma De Mallorca is varied throughout the year.
In January to April expect around 15°C-18°C temperatures before it starts to pick up for summer.
The summer months, May to August, it can get hot, especially in July/August when temperatures can rise to over 30°C but the average is around 25°C. If you're looking for a suntan, this is the time to visit Palma!
September to November it can still be warm (and sometimes very warm!) but this tapers off as the year ends with a sharp drop in Nov/Dec months to around 15°C.
Palma De Mallorca Airport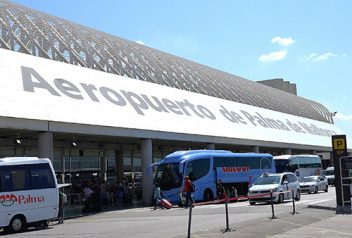 Mallorca airport is located just outside the city of Palma and is split into two levels with Palma airport departures being located on the upper level with easy drop off access. If you're in a taxi it will take you right to the door.
Be advised, because of cheap flights to Palma the airport can be very busy in the summer and this year has seen considerable delays getting through security and passport checks at departures, make allowances in your time so you don't miss your flight!
Palma airport arrivals is on the ground floor level. When you come out of the terminal there are taxi ranks and buses for your transfer to your hotels.
If you're taking advantage of car rental then the desks are located on both the airside and land side of the arrivals area as you come out.
Contrary to popular belief there is only one airport on the island, there is no such place as Magaluf airport, only Mallorca airport!
Palma De Mallorca Hotels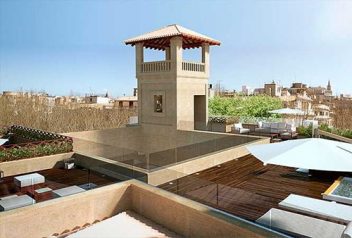 There is no shortage of Palma hotels or accommodation in the city and the choice is wide and varied depending on what you're looking for.
As this is the capital city there are many hotels, villas and apartments situated on the coastline and the outskirts of Palma that offer a wide range of facilities like spas, tennis courts, swimming pools, gyms and golf courses.
Away from the mainstream offerings there are a wide variety of boutique hotels that have been built in recent years and the choice is almost unlimited. Many have restored old historical buildings keeping the original look but with all the modern amenities.
Check out our Palma hotels page to see our recommended places to stay while your visiting.
Things To Do In Palma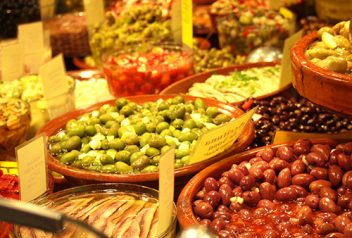 Palma has great sporting facilities such as golf and tennis however you'll need to get a car or taxi if you'd like to play golf because the courses are about a 10-minute drive out of Palma.
If sport isn't your thing there is plenty to do in this great city and shopping here is a great experience. One of the best areas to shop in is the Passeig des Born and the pedestrian streets of Paca Major.
There are all the well-known brand names such as Hugo Boss but visiting the smaller boutique shops is what makes shopping so unique in Palma.
If you want to explore the surrounding island and the exquisite beaches then there are plenty of boat and yacht trips that you can use.
These are particularly good fun if you have your family or big crowd but if you're interested in a day or half day trip these run from the Bay of Palma on a daily basis. It's advisable to book your trip in advance because they're extremely popular during the peak season.
Alternatively if you're looking for activity then there are walking trails, bicycle tours or scooters that can be hired to get you from place to place through the city.
It doesn't rain often in Palma but if it does there are plenty of indoor activities that one can do such a visiting the museums, going to the Aquarium and the indoor shopping centres that are in the centre of Palma.
Restaurants & Nightlife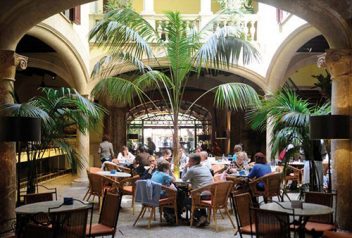 There are numerous areas in Palma where you can go to have some entertainment at night. The La Lonja is where most of the nightlife takes place with Jazz clubs, late night restaurants, bars and sky bars that offer a wide selection of cocktails.
Another great area for evening entertainment is Santa Catalina which is always full of people no matter what the season is. This area offers numerous bars and is where many of the locals go for their evening out.
Palma has some of the best restaurants in Majorca and you have a great choice of cuisine especially in the Santa Catalina part of the town. There you'll find restaurants that will offer food from South America, Asia and Italian to name a few.
There are new restaurants opening all the time so the food is both affordable and of high quality. If you would like an excellent seafood meal and some Spanish Paella the district to visit is the seafront close to Portixol.
History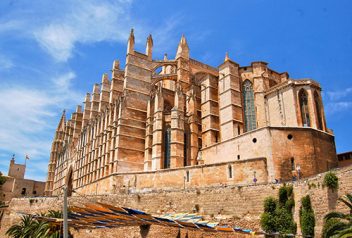 This is an absolutely stunning town rich in history that dates back as far back as the 13th Century. It has been inhabited by the Moors, Romans and Talayotic people.
The are a multitude of Historical sites to visit either yourself or with a guide such as the Palma Cathedral tour. The city has numerous bars, galleries, restaurants and studios to occupy your time. It's little wonder that Palma is rated as the best city to visit in Mallorca.
Palma de Mallorca is home to more than half of Mallorca's population and it has a choice of great restaurants, luxury Hotels, cafes and a vibrant nightlife.