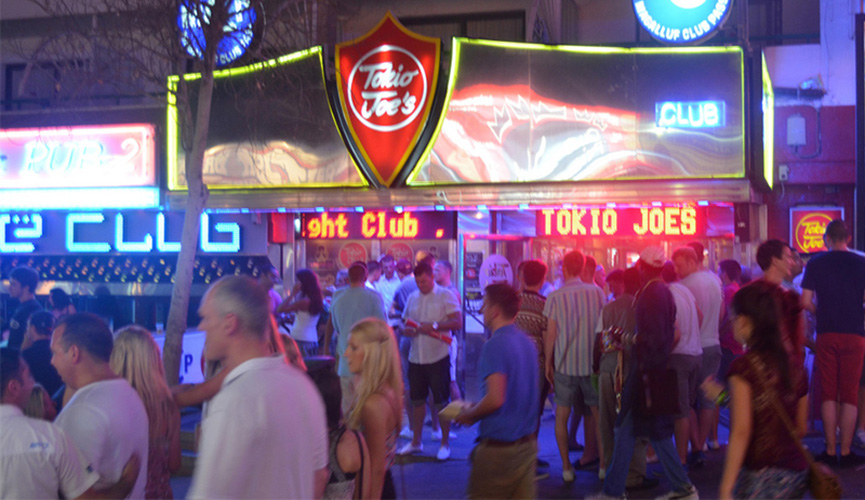 Tokio Joe's, Magaluf
Oh yes, we've landed! Magaluf Nightlife legend!
Tokio Joe's, or Tokio Joes as it's sometimes known, is one of the busiest Majorca Clubs on the strip in Magaluf.
Over the years it has carved out a reputation for playing fantastic Hip-Hop and R&B Music that sees punters returning year after year to live it up.
The club looks a lot smaller than it actually is as its mostly underground so when you walk down the stairs into it you get a bit disorientated (at least that's what you can tell your mates when you stagger in!).
Being part of the MCP group of clubs you know that this is a well-run and great club.
The atmosphere is electric as resident DJ's Dean Cruise and Luke Lawson mix it up some with appearances from special MC's when they're in town.
Tokio Joe's boasts several VIP areas and tables served by stunning hostesses ready to take your order.
There's a bar on every side of this club so whichever way you turn in Tokio Joes you know your heading for the bar!
There's also some sizzling hot podium dancers around the club that entertain the crowds with their moves. This club is always jumping as the tunes make people dance and shout simultaneously.
A test of a good club is one in which the workers are regulars and Tokio Joe's ticks this box easily. Well regarded and well visited by Magaluf's worker population you just know this is going to be a night to remember!
Because Tokio Joes is one of the MCP group of clubs you get free entry to this and all the other MCP clubs on Magaluf strip when you enter. Well worth it!
Where is Tokio Joe's in Magaluf?
The club is about halway up the strip on the left hand side next to Chaplins Bar. If you need to get a better feel for where it is check out the map on the left hand side of this page.
Tokio Joe's Nightclub
Carrer Punta Ballena, 7
07181 Torrenova
Illes Balears, Spain
Unknown
11am - 6am