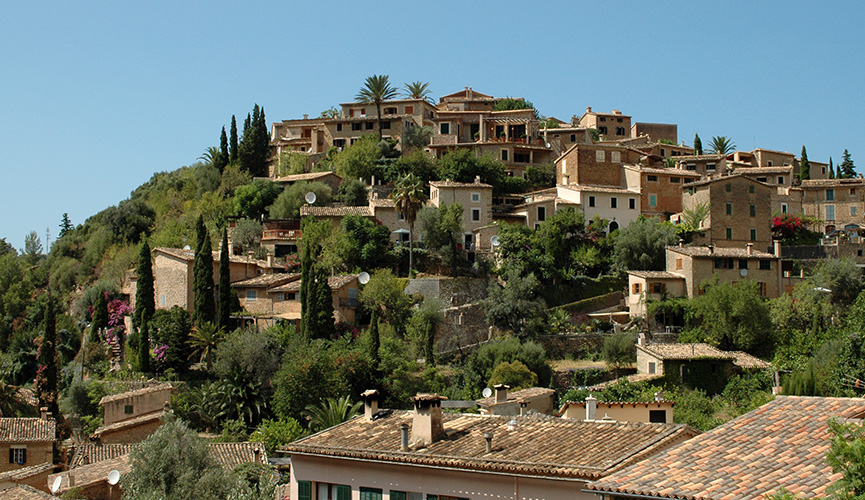 Deia
A picturesque town perfect for lovers of history and calm.
This pleasant little village that is situated below the Teix mountain on the West Coast of Mallorca has been described as a millionaire's haven and if Robert Graves did not decide to come and stay in this Village it probably would have remained just a normal Mallorcan village. The name is actually derived from the Moorish conquest of Deia when it was named 'Ad-Daya' which means village.
For much of Deia's history, it has been inhabited by artists, musicians and people from all over the world looking to live a bohemian lifestyle. Much of the hillside is covered with Olive trees and they planted up to 600 meters above sea level on the terraces that were created by the Moors as long ago as the 10th Century.
Things to Do
As you can imagine there is not much to do in this idyllic village so most people that come to Deia do so to relax and enjoy the lovely views from the terraces. There are public tennis courts if you feel like a bit of exercise and the hotels that are based in Deia also have tennis courts.
For the tourist who loves cycling or hiking trails, there are plenty of them available around Deia and the coastal road is a popular cycling route that tourists love to explore but it must be noted that it is a gruelling ride with lots of hills and is quite a tough workout.
Things to see
If you would like to spend the day on a shingle beach you can visit Cala Deia which is set in a captivating cove and is often used for naked swimming and some all night parties over the weekends. This is apparently what Graves used to do for entertainment. Down at this beach, there are two restaurants that specialise in fresh fish but they are only open in the summer months.
Hotels in Deia
The most famous of the hotels is the La Residencia which was at one time owned by Richard Branson but it is now part of the Orient Express group. It offers luxury accommodation and is based on the outskirts of Deia. There is another big hotel that hosts 87 rooms and is on the other side of the town. The El Moli is decorated in a classic Mallorcan style.
These two are the biggest hotels and the rest of accommodation in Deia are smaller boutique type hotels. In the city centre, there are smaller hotels but the accommodation is quite basic and some of them like the Hotel des Puig do have lovely swimming pools.
Restaurants and Nightlife
Deia has attracted the rich for centuries and it is still the same so some of the restaurants are of high quality. The Es Raco D'es Teix has not only got good Mediterranean food but is situated above the town providing beautiful views. The hotel La Residencia has one of the most elegant restaurants in Deia and serves great food and should be a gastronomic experience that you should have when visiting Deia.
There are restaurants that are more laid back like the El Barrigon Xelini which has Saturday night Jazz evenings but only during the winter months. The great facility this restaurant offers is overnight accommodation if you feel like an overnight stay.
If you feel like joining the locals for a drink or two before exploring the choice of restaurants you can visit the Ba Fonda. The visiting musicians could even start playing their instruments giving you some unplanned entertainment.
Deia is not for the person that would like a holiday where there are lots of activities but this lovely little village does offer the tourist a relaxing time away from home.