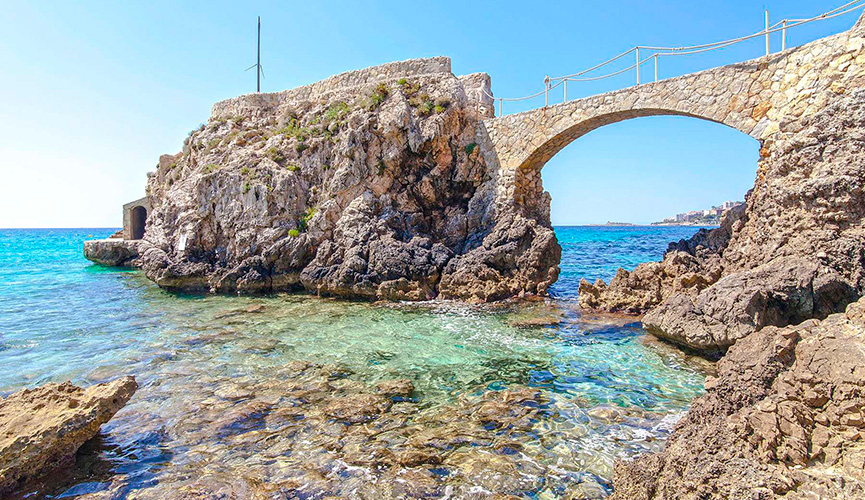 Cala Major
An great family resort close to Palma with glorious beaches.
Cala Major is one of the oldest established resorts and it is only a small distance from Palma. The beaches in Cala Major are protected from the elements unlike Palma and they can get very crowded during the peak months. The town is not very attractive with all the high rise buildings but it has a great location and the beaches are the main attraction.
Things to see
Cala Major is the perfect holiday spot where you would like to mix a bit of city life and relaxing on the beach. There are some historical sites that you can visit which are nearby such as the Castillo Bellver Fortress and the Cathedral in Palma of La Seu. For the art enthusiasts, Mallorca's most important art collections are kept in Cala Major.
Cala Mayor is known for the Marivent Residence where the royal family of Spain often come and spend their holidays and the artworks of Joan Miro's are also on display in Cala Major.
Things to do
The beach is the main attraction to Cala Major and it is very child-friendly which makes it the perfect holiday resort for families. The water is nice and shallow and there are very rarely choppy waters. There are not a lot of water sports but a person can rent water bikes for a bit of fun out in the sea.
If there is nothing to do and you would like to do some other activities Palma is about a quarter of an hour away from Cala Major. The cost of a taxi to get there will not be very high and there is also a bus that runs every 30 minutes from Palma to Cala. So you can have the quiet relaxing time in Cala Major and when you would like to look for some excitement Palma is just around the corner.
On the way to Palma very close to Cala Major, there is a shopping centre and a cinema complex.
Hotels in Cala Major
Cala Major have a wide selection of luxury hotels as well as boutique hotels. For the holiday maker that does not want to stay in the busy Palma, Cala Major is the perfect resort with the added advantage of being able to use all the facilities that are in Palma because of the close proximity.
There is the Kimono store where you can organise day trips and some gym activities such as yoga.
Cala Major was once the main attraction for tourists when it was first built but now with it being almost a suburb of Palma, the tourists have generally moved away from Cala Major. The advantage of staying in Cala Major is that it is not as busy as Palma and you can a have a nice relaxing holiday. The beach at Cala Major is frequented by tourists as well as the locals and because it gets deep gradually is the perfect playing ground for young children. The older people also like to spend their day at Cala Major's beach because of the gentle nature of the sea.
Restaurants and Nightlife
There is a large selection of beach restaurants and bars that one can choose from in Cala Major. The bars are small but add to the atmosphere with some of them offering cocktails and music while you are relaxing gazing at the beautiful turquoise sea.
However, if you would like to have a busy nightlife while you are on holiday you can visit Palma and then have relaxing days in Cala Major. The beach front does have a good selection of beach bars where one can enjoy quiet evening drinks and listen to some music.