Known worldwide as the Wave Hotel Magaluf the Sol Wave House is a very cool hotel to stay in.
It's a very modern hotel located right on Magaluf Beach so it's seconds from your room to sea.
Sol Wave House hotel is in the heart of the Magaluf's popular nightlife area so you never have far to walk for a party.
The Wave Hotel Magaluf has the island's only Flowrider wave pool so you can have some fun during the day with your mates.
Elsewhere around the pool you'll find loads of sun beds so if you don't fancy the beach you can relax there for the day.
The pool also has daily DJ events and parties so it's never dull at the Wave Hotel Magaluf.
This is a great place to stay and one of the best Majorca hotels in resort for visitors.
Wave Hotel Magaluf is a four star hotel and pretty new so the quality of the hotel is high.
It also has the claim to fame of being the world's first Twitter themes hotel and guests can tweet and retweet messages using #SocialWave.
Sol Wave House Hotel Magaluf Rooms
The hotel has suites and junior suites which come with terrace, air-con, bath/shower, hairdryers, television and phone.
The Sol Wave House Magaluf has 184 rooms in total so it books up pretty fast especially in summer!
The rooms are clean and modern with usual facilities available.
Food & Drink
The food is a buffet serving for breakfast and a la carte menu for lunch. Dinner is actually available from the Sol Trinidad next door in the evenings.
Snacks are available throughout the day from the pool bar and they have a great and varied drinks menu too!
Facilities At Samos Hotel Magaluf
The hotel is top for service and helpfulness. Reception would be happy to help you with things such as trips out and where to go in Mallorca.
Because this is the Twitter hotel anything you need can be sorted out by a quick tweet to the staff, very social!
Check out our Wave Hotel Magaluf reviews below to see what other customers have been saying about their stay here.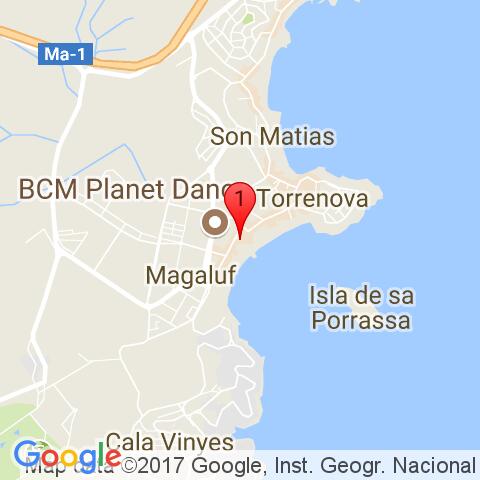 Sol Wave House Hotel
Avenida Magalluf, 18
07181 Magalluf
Islas Baleares, Spain
+34 912 76 47 47