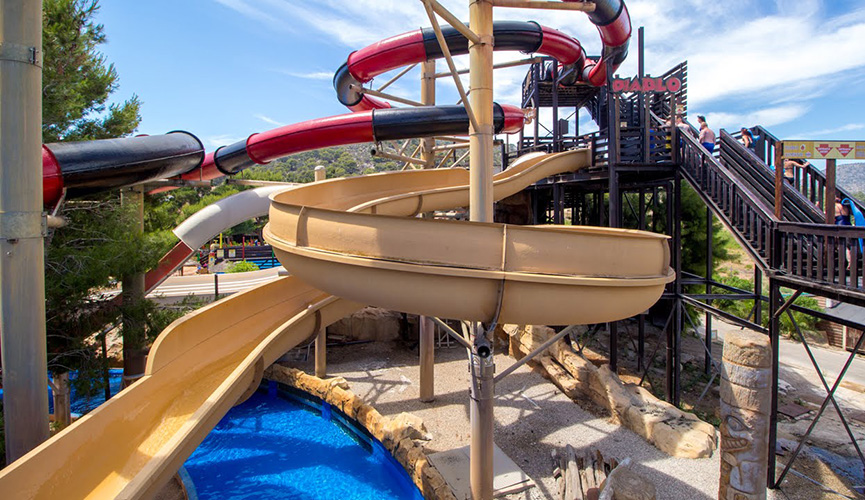 Western Water Park
A great day of wet fun at the famous Western Water Park
Western Water Park Magaluf is a great day out for anyone looking to enjoy a bit of water based fun. Popular with families, groups, young and old there is something for everyone to enjoy at this fantastic waterpark.
If you're looking for a fun day out this is the place for you!
Western Water Park Slides
The waterpark has some great high adrenaline slides for you to try out such as Cola Del Diablo, Tijuana Twins, Tornado and The Beast!
Dare you slide down a 30 metre drop?
Maybe you want to race your friends down the Crazy Horses slide which can take four racers at a time. Great fun!
There are lots of different attractions here to keep you busy all day, you can be sure of that.
Great Fun For Families
Western water Park has built some rides that several people can enjoy at once. This is great for families or groups of people looking to share the experience.
Tackle those slides as a team!
Keep a look out for Huracan, Big Hole and Gran Canon if this is the type of attraction you, your friends or family might enjoy together.
There is also a dedicated Kidzone where the younger visitors can safely try out slides, waterfalls and rides all under close supervision of the fully trained supervisors.
Want To Just Relax?
Want to relax while the kids enjoy their day?
There are plenty of areas in the waterpark where you can relax and soak up some sun. Maybe you'd like to take a mosy on down the Wild River in a rubber ring while watching the world go by!
If you're there with kids send them off to have some fun while chilling out on a sun bed and sipping refreshing beverages from the many bars and cafes.
Tickets are available using our form at the top of this page. They vary in price depending on the age so as to get you the best value for money on this day out.
Enjoy your day at Western Water Park Magaluf!
You May Also be interested in these great events and activities...
You May Also be interested in these great events and activities...