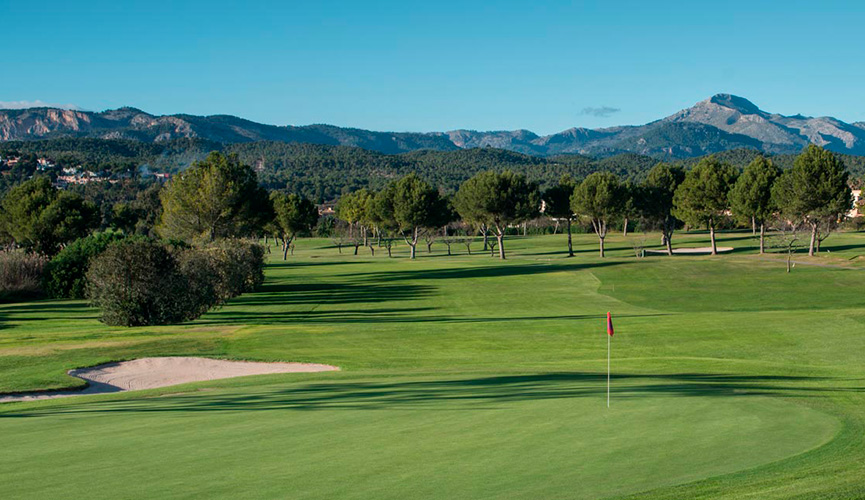 Santa Ponsa Golf
Six time host to the European Tour and a great course.
Opened in 1977, Golf Santa Ponsa I has 18 holes (Par 72) with a total lenght of 6.543 meters, being hole 10th one of the longest Par 5 's in Europe.
Designed by Folco Nardi (together with Pepe Gancedo), Golf Santa Ponsa I covers an area of 73 hectares and is a long course with lakes and a great variety of trees (olive, pine, almond etc). It appeals to all kinds of players thanks to the wide fairways and the tees where long hitters will enjoy themselves without forgetting the short game tuned to a good result.
Golf Santa Ponsa I stands out as one of the most important courses in Mallorca, with most events, host to national and international competitions:
this is the course in Mallorca where the PGA has choosen the most times to host Europea Tour events, with winners such as Severiano Ballesteros (1988)(1992), O. Sellberg (1989), G. Levenson (1991), J. Payne (1993), M.A. Jiménez (1998)
Spanish PGA Championship
Match Spain – Belgium
Spainish Amateur International Championship(1982)
Spainish Senior Ladies International Championship (2011)
Europena Club Championship
International Challenge
H.R.H. El conde de Barcelona (1977-1992)
International H.R.H. Juan de Borbón (1993-2012)
International H.R.H. Princesa Birgitta of Sweden (1991-2012)
The Mentor Foundation (1998)
Other important players who have participated in these events are José M. Olazábal, Barry Lane, Jesper Parnevik, Colin Montgomerie, Ian Woosnam, Lee Westwood, Vijay Singh, etc.
Other important personalities who have visited our club are SS.AA.RR. Kings of España, H.R.H. Prince Felipe, H.R.H. Juan de Borbón, Prince Andrew of England, Kings of Sweeden, Duques of Luxemburg, President Carter, Bruno Kreisky, Michael Douglas, Catherine Z. Jones, Nigel Mansell, Franz Beckenbauer, Ingemar Johanson, and many more…
You May Also be interested in these great events and activities...
You May Also be interested in these great events and activities...