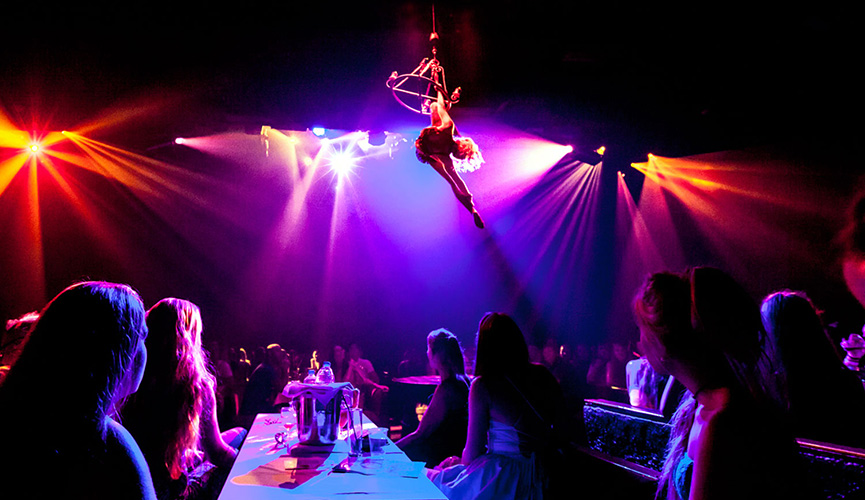 Pirates Reloaded, Magaluf
An incredible evening of acrobatics, dancing and a spectacular show!
Pirates Reloaded is the adult version of Pirates Magaluf. This is great party experience that's definitely unique in Majorca!
Imagine a concert, a festival, a club and a show all into one, there's nothing else like it anywhere in the world. It's certainly not the average night club!
Many a holidaymaker has experienced this show and everyone raves about it.
Pirates Show Magaluf has an electric atmosphere, live DJ sets along with world class anthems and acrobatics.
You may even rub shoulders with celebrity visitors!
It will be the best night of your holiday.
It's no wonder that Pirates Magaluf is known as one of the islands top party nights!
Pirates Magaluf
Pirates Reloaded is basically Pirates with an adult twist including an innuendo packed script and no-holds-barred dance routines.
You'll be dancing on tables surrounded by the stunning performers!
The Pirates show Magaluf serves free and unlimited beer, sangria and soft drinks – all night!
You'll then carry the night on with free entrance to the VIP after show party in Magaluf!
WeAreParty is proud to be offering this unrivalled event to our customers. It truly is something special here in Magaluf and if you leave the island without sampling its incredible atmosphere at least once then you'll regret it for sure!
Pirates Magaluf tickets are super in demand right now so make sure you book your tickets soon to avoid missing out for the dates you want when you land here on the island.
So, if you want to check out the insane acrobatics, music and saucy antics of the Pirates Show Magaluf you know what you need to do. We'll see you swinging from the chandeliers soon!
Don't forget that Pirates Show Magaluf is included in our Platinum Package which combines your events into a cheaper price for your holiday!
Pirate Show Magaluf – Included In Tickets
Pirate show is an electric night of classic club tunes and amazing acrobatics guaranteed to blow you away:
World Class Acrobatics
Free Beer and Sangria All night
Cast & crowd interaction
The biggest summer tracks
After party free entrance
Access to After Party at Coco bongos (Including 1 x free drink)
Where Is Pirates Magaluf?
Pirates Reloaded performances are at Pirates Theatre. Just as you are coming into Magaluf the Pirates Theatre is on the corner after the roundabout.
Get Tickets To Pirates Reloaded
Use our booking system to purchase your ticket for the date you want and we'll shoot you over an email super quick with your booing information contained on it. That's it, no muss no fuss!
You May Also be interested in these great events and activities...
You May Also be interested in these great events and activities...