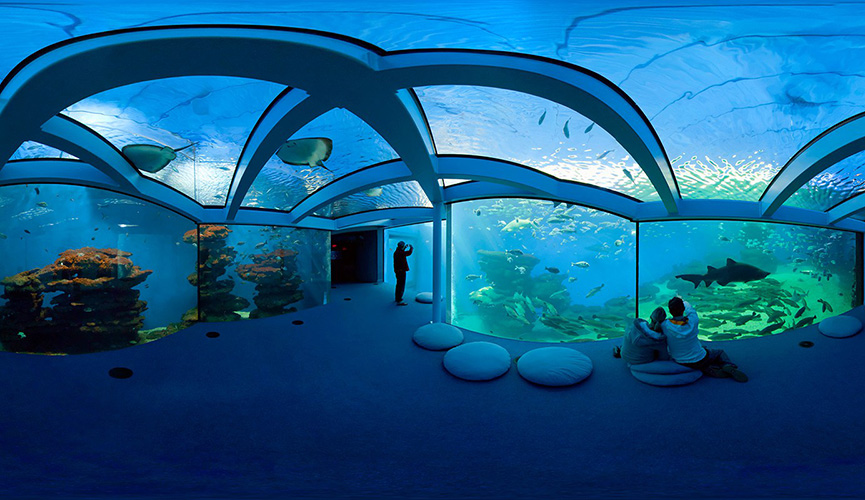 Palma Aquarium
Explore the wonders of underwater life at Palma Aquarium
Palma Aquarium is a special place perfect for families, couples or groups to enjoy. The aquarium is well renowned for it's amazing array of underwater life where you can get up close and personal with the viewing areas available.
This place really has every type of sea life you can imagine, it's no wonder that Palma Aquarium is famous worldwide.
Fancy checking out the sharks? Then try out the Shark Vision Boat or for those who don't want to get quite that close there is the great viewing areas.
You'll find it's the perfect place for a day out whether your a family, couples or in a group of people.
Families
For families there are set times where you can watch the feeding of the sharks, turtles amd humphead wrasses. Once you've done all that the kids can enjoy themselves in the Nautilus Park – a unique area where slides, adventure playground and ball pits are available.
Couples
For couples too there is a lovely way to get romantic – dining with the sharks!
Book a table for you and your loved one to sit and watch the sharks through the fantastic viewing windows as you tuck into some beautifully prepared food.
If your of the adventurous type you can even arrange to propose underwater with the sharks by swimming past the window popping the question!
For those couples further down the road of their romance Palma Aquarium is a great place to get married with some truly special and unique surroundings that will make your day rememberable.
Groups
The aquarium regularly hosts special events such as birthday parties, anniversaries, company events and many other such occasions.
If you're looking for a unique place to have a gathering of some sort then Palma Aquarium is it!
You May Also be interested in these great events and activities...
You May Also be interested in these great events and activities...