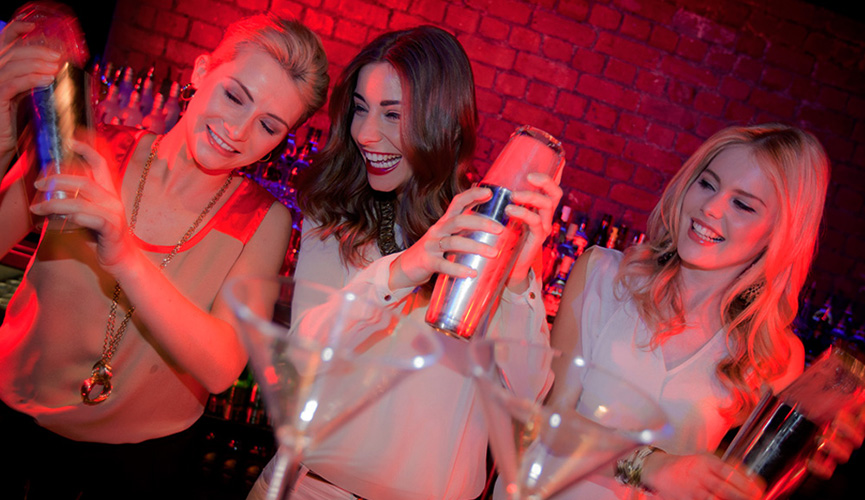 Magaluf Cocktail Making
Cocktail making, dance show and Karaoke party with We Are Shook Up!
We Are Shook Up is a Magaluf Cocktail Making class, professional dance show and karaoke party all wrapped up into one! Something different for all you ladies out there travelling to Magaluf this summer. This cocktail making course with a saucy twist is a definite must.
To start your Magaluf cocktail making party you'll arrive at Coco Bongos at 9pm to a champagne cocktail from your topless professional cocktail maker and host. You will then get taught how to make 3 mind blowing cocktails, washing them down with body shots off of our cheeky bar man!
If this wasn't enough for you ladies why not treat yourself and your hen to a professional dance show from one of our male performers (it will be our little secret!).
The night doesn't have to end then as you can sing your heart out and dance the night away with our karaoke host at the venue which stays open until 4am!
Our Magaluf cocktail making party is a great way for you and your hens to have some fun, laughs and drinks while learning a new skill!
This event is the perfect antidote to a night of craziness for you and the girls. At this event you can have great fun while staying just outside of the wild behaviour of the Magaluf strip. But your still close enough to go over there when you've finished those amazing cocktails you've made!
So c'mon girls, get shook up with our cocktail making classes and have a laugh with your mates as you learn your new trade!
What's included in the Magaluf Cocktail Making?
An incredible night for you and the girls! Learn how to make cocktails in the best way with our hunky barman as well as see the professional dance show and sing your heart out with Karaoke. On top of all that you get:
Welcome glass of champagne cocktail
Cocktail lessons from one of our professional barmen
3 mind blowing cocktails per person
Professional Dance Show
Karaoke party
Where Is Magaluf Cocktail Making?
The address for Magaluf Cocktail Making is Coco Bongos bar in Magaluf. This is in the center of Magaluf and is really easy to find.
Where Do I Get my Magaluf Cocktail Making tickets?
Here of course! Just select the number of tickets you want, the dates you want them on and buy them at the checkout. We'll fly your tickets over to you straight away in an email so you're all ready to attend the event when you get here!
You May Also be interested in these great events and activities...
You May Also be interested in these great events and activities...