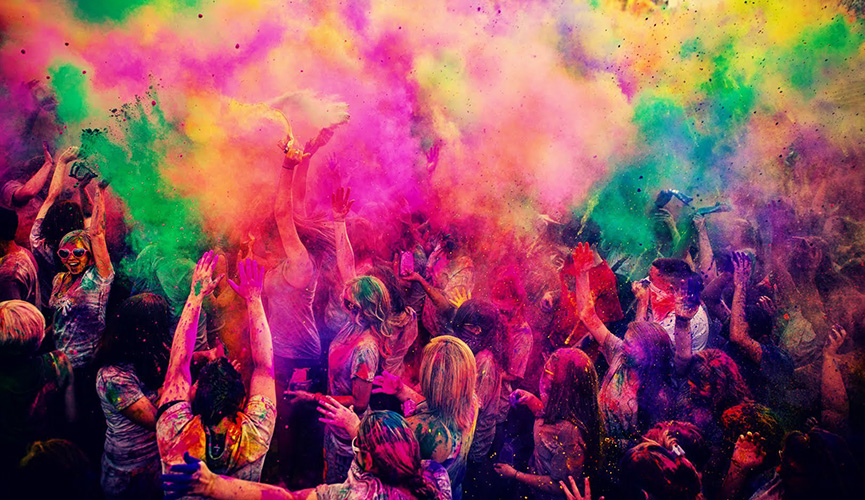 We Are Holi
A crazy coloured paint party in the theme of Holi Festival
Get ready for the best Magaluf Paint Party in Majorca – We Are Holi, Magaluf's newest and most exclusive party of 2017. Based around the Indian Holi Festival powdered paint party this is a night to remember!
Our We Are Holi party is based on the vibrant and colourful Indian Holi Festival in which visitors throw tons of powdered paint into the air causing an explosion of colour...read more
Reserve your ticket today for only £10 and pay the balance in resort when picking up your full ticket from Alex's Bar!
Well, Magaluf can do it bigger and better than anyone so let's combine this colourful party with what Maga does best – drinking, dancing and wild behaviour! It's time for the Magaluf Holi Party!
You will arrive at 8pm. Dress to impress in white is a must (got to make sure that colour stands out don't we?). On arrival head to the bar and grab yourself a drink at which point you'll be treated to our special Holi champagne cocktail for free to enjoy whilst watching the cascading sunset in true VIP style over the bay!
After you've kicked back for a while on one of our Ibiza style cabanas listening to the hottest house DJ's on the island you'll witness our mesmerising Indian fire show and dancers.
You'll be dancing all night while having fun, debauchery and hidden surprises along the way. Culminating in a wild Indian summer powder paint party where you and your mates will get covered in crazy amounts of powdered paint!
Our Magaluf Paint Party has a free open bar from midnight till 6am in one of Magaluf's hottest locations, an MCP club!
This is going to be THE biggest event this summer and ticket sales have been going like hotcakes so make sure you get yours now to avoid missing out.
Tell me what else I get please!
Ten hours of non-stop craziness! We Are Holi is a wild, colourful, insane night of madness that you are certain to never forget. Want specifics? Ok!…
Special Holi champagne cocktail
Indian fire show
Fantastic stage dancers
Cast & crowd interaction
Best summer anthems
Free entrance to MCP club
Where Is The Paint Party?
We meet for the Magaluf Paint Party. Basically if you walk to the beach from the Magaluf strip you'll see it.
Give me tickets now please!
Okie Dokie! Just use the order area at the top of this page to choose what date you want and how many tickets. Once you pay at the checkout you'll get an email with your tickets attached!
You May Also be interested in these great events and activities...
You May Also be interested in these great events and activities...