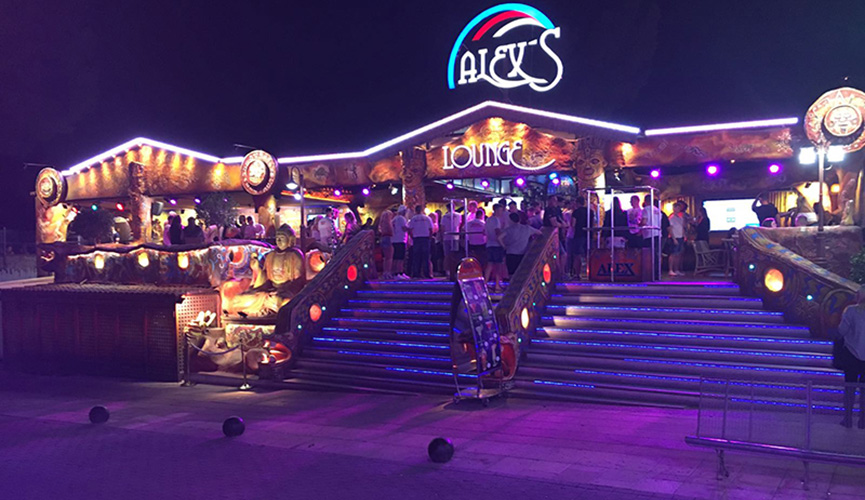 Alex's Bar Magaluf
Be seen at one of the hottest bars in Magaluf!
Alex's Bar Magaluf, sometimes called Alexs Bar Magaluf, is the one place that every partygoer to Magaluf knows about when they land here.
That says a lot about this place which has become one of the best Majorca Bars to visit.
As we've said before, a true test of a good Magaluf bar is a place that workers can call home and Alexs Bar is not just home to the workers of Magaluf but also a way of life! They love it, we love it and you'll love it too.
Alex's Bar is open from 11am to 4am which makes it the perfect place for stag parties and hen parties to visit.
Some of the antics that take place in Alexs Bar really have to be seen to be believed, and some should never be seen at all!
Just make sure you take lots of pictures as your memory is bound to get hazy.
The stunning hostesses and hot hunky barmen are famous at Alexs bar and it is definitely a place that is overflowing with eye candy for your night out on the town in Magaluf.
This is undoubtedly THE bar you need to visit while on holiday this year. If you haven't been to Alex's you haven't been to Magaluf!
Alex's Bar is part of several bars all in the same area owned by the same family so we thought we'd look at them all for you!
So, check out our list of the different bars below so you know where to head for!
Alex's Bar
This is the original bar that started it all. It's still probably the most popular of them all.
In here you'll not only here the latest R&B/Hip-Hop vibes but also the biggest tracks moving the UK Garage scene right now.
The DJ's in Alex's Bar really know their music which is refreshing in a resort largely based on cheesy tunes.
Outside there is a terrace area so you can see what is going on outside or just chill with a drink.
Inside is the main bar with dance floor, dancers and other entertainment.
This place is a great bar to check out if you like your R&B or to people watch.
Always busy, always jumping, this is a top venue to dive into.
Alex's Lounge Bar
Just opposite Alex's R&B bar is Alex's Lounge Bar. This is a real favourite of workers here in Magaluf.
Outside there are some big stairs taking you up to Alex's Lounge Bar, be careful not to trip!
There are two podiums at the top of the stairs always staffed by gorgeous dancers strutting their stuff.
Inside there is a wide bar with lots of comfy seating around the rest of the venue. Great for chilling!
The bar also has a pool table and overlooks the rest of the road so gives you a birds eye view of everything.
We love this bar so much it is our meeting point for many of our events such as We Are Zoo and We Are Commando.
Alex's Indie Bar
Alex's Indie Bar is a relatively small bar with a terrace area outside, a bar and small dance floor inside.
The DJ in this place is great if you like some Stone Roses or similar Indie type bands.
The vibe at Alex's Indie bar is laid back and its a good place to chill and watch the rest of the strip as it passes by.
Alex's Party Zone
This is the newest of Alex's bars, has just been built this summer 2017 and called Alex's Party Zone.
As you may have guessed this bar is a full on party zone with lots of cheesy tunes.
The DJ also involves the crowd in drinking games and other such fun throughout the night.
If you're looking for a bar to party in then Alex's Party Zone is it!
Where is Alex's Bar Magaluf?
Head up the Magaluf strip to where Chaplins is and do a right down the road. Alex's is on the right hand side down there.
All the bars are grouped together so you'll find them easily.
If you need to see where exactly Alex's is check out our map on the left of this page.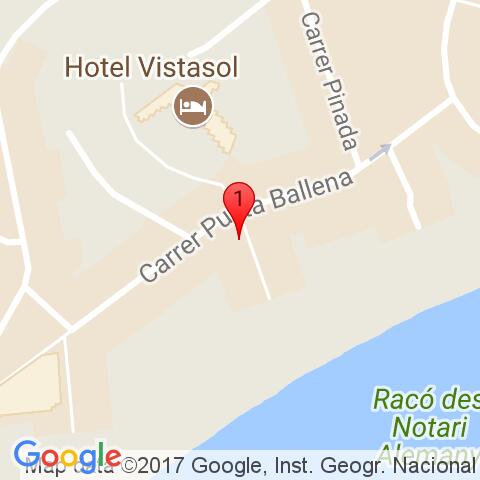 Alex's Bar
Carrer General García Ruiz, 3
07181 Torrenova
Illes Balears, Spain
Unknown
10am - 4am